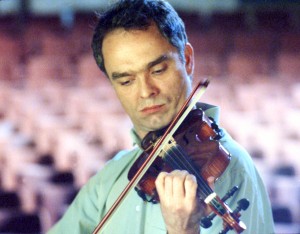 George van Dam is a violinist, composer and harpsichordist.
As a violinist he has worked with several leading composers of today – as a soloist or with contemporary-music ensembles such as the Ensemble Modern Frankfurt, MusikFabrik, Spectra and
Ictus
, of which he is one of the founding members. Being very active in the Belgian dance – and theatre world, he has also appeared as a soloist in the productions
Rosa, Achterland, Kinok
and
Partita2
by Rosas/Anne Teresa de Keersmaeker and in
Die Siel van die Mier, Escorial
e.a. by Josse De Pauw (Muziek LOD, Transparant).
His own compositions include song cycles, chamber music, a concerto for violin and timbila-orchestra, music for film (Plateau Prize 2005), theatre/ dance performances, music for choir and works with visual artists Manon de Boer, Trudo Engels, Angela Bulloch e.a.
In 2012, he resumed his activities as harpsichordist and studied with Robert Kohnen, Ketil Haugsand, Johan Pieterse, Bob van Asperen and Elisabeth Joyé in masterclasses at the Piccola Accademia di Montisi and elsewhere.
Recent projects include the theatre productions BachOwski in which he appeared as harpsichordist with Compagnie Jours Tranquilles Lausanne/F. Gorgerat, as organist in Het Sienjaal with Tibo Vandenborre and as violinist/soldier in War and Turpentine by the Needcompany/Jan Lauwers.